Depending on the amount of use you and your family spend on your area rugs, you should look into having your rugs cleaned at least every 12-24 months by our certified professional.
By choosing Rancho Carpet & Upholstery Care, your area/oriental rugs will be treated with the care they deserve.
With over 30 years of experience, you can be sure that David has the extensive knowledge to treat your rugs carefully and correctly. Whether you need pet stains or food stains removed, your rugs are in good hands.
Dye testing
Dry soil or dirt removal
Loosing of dirt and soil
Extraction of soils
Fast drying
Cleaning your investment quality textiles is an art
David Glass, owner and certified textile technician by the IICRC will carefully inspect your rug for any pre-existing conditions.
The first step to clean your woven rugs is to remove dry particulate soils. Rug vacuuming is key to proper cleaning.
Appropriate cleaning products are used to restore the beauty, colors and feel to your rug. Rugs are then thoroughly rinsed to remove soils, contaminants and any cleaning product residue. The knap is brushed to ensure softness as it dries. Any fringe on the rug is also brushed out.
Special equipment removes as much water as possible before drying which delivers a nice, soft texture.
Want the most thorough carpet, upholstery, tile and blind cleaning in Southern Califiornia?
Carpet makers recommend a professional cleaning every 12-18 months. If pets and kids are in the house, carpets may need to be
more frequently cleaned.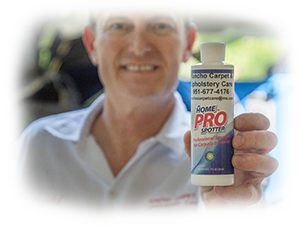 Free Home PRO Spotter Bottle With Lifetime Refill With Every Service!
Temecula, Menifee, Murrieta,
Canyon Lake, CA
Referral rewards available!
David Glass, certified master technician, can get your carpets, upholstery, tile, area rugs, and blinds cleaned & restored like new. Call Rancho Carpet & Upholstery Care today.
© 2017 Rancho Carpet and Upholstery Care. All Rights Reserved.