Since 1975, Rancho Carpet & Upholstery Care has been providing professional cleaning to those with textile, hard surface, and upholstery in their homes.
When it comes to cleaning upholstery, you can be sure that owner/operator, David Glass will be careful in deciding which cleaning method would prove most effective for your furniture.
Having your upholstery properly cleaned by our certified professional will not only enhance the life of your upholstery, but it will thoroughly remove oils and dirt out of the furniture. Regular cleaning keeps your upholstery clean, smelling fresh and prolongs the life.
Thorough cleaning process
Pre-inspection
Pre-vacuuming
Pre-treatment and preconditioning
Pre-spotting
Extraction
Dry and groom
If you have just purchased new upholstered furniture or recently had your furniture cleaned, then now is the perfect time for you to get fabric protection. This will protect your furniture from spills and stains without taking away the slightest bit of comfort.
Want the most thorough carpet, upholstery, tile and blind cleaning in Southern Califiornia?
Carpet makers recommend a professional cleaning every 12-18 months. If pets and kids are in the house, carpets may need to be
more frequently cleaned.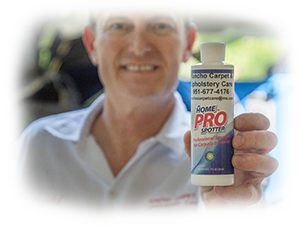 Free Home PRO Spotter Bottle With Lifetime Refill With Every Service!
Temecula, Menifee, Murrieta,
Canyon Lake, CA
Referral rewards available!
David Glass, certified master technician, can get your carpets, upholstery, tile, area rugs, and blinds cleaned & restored like new. Call Rancho Carpet & Upholstery Care today.
© 2017 Rancho Carpet and Upholstery Care. All Rights Reserved.