Owner David Glass who specializes in restoration cleaning can do more than just
simply cleaning the carpet in your home.
Instead he aims to resurrect your carpets by cleansing them of pollutants, dirt, and grime so that they last for years to come. If you suffer from allergies, having your carpet cleaned will help in alleviating some of your symptoms as well.
Thorough carpet cleaning process
Your carpet is vacuumed with a high-powered vacuum to remove dry soil.
Edges are vacuumed to remove dust.
Your carpet is pre-sprayed with proper Ph- cleaning solutions.
Spotting agents are used to remove the spots so they do not return.
The RX20 rotary extraction tool cleans all sides of the carpet and is hot water rinsed. A special tool is used to remove the water leaving your carpet dry within 4-5 hours.
Your carpet is now soft, shiny, residue free.
Want the most thorough carpet, upholstery, tile and blind cleaning in Southern Califiornia?
Carpet makers recommend a professional cleaning every 12-18 months. If pets and kids are in the house, carpets may need to be
more frequently cleaned.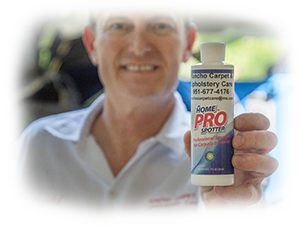 Free Home PRO Spotter Bottle With Lifetime Refill With Every Service!
Temecula, Menifee, Murrieta,
Canyon Lake, CA
Referral rewards available!
David Glass, certified master technician, can get your carpets, upholstery, tile, area rugs, and blinds cleaned & restored like new. Call Rancho Carpet & Upholstery Care today.
© 2017 Rancho Carpet and Upholstery Care. All Rights Reserved.