With 30 years of experience in the industry, you can be sure that our owner/operator, David Glass will not only properly clean your carpets and upholsteries, but your hard surfaces as well.
Whether it's Ceramic Tile, Porcelain Tile, Travertine or Granite, rest assured knowing David is IICRC certified in stone cleaning and is qualified to clean any hard surface you may have.
Professional grout sealing service
David can also assist you in more than just cleaning your hard surfaces. If you have grout in need of sealing, then Rancho Carpet & Upholstery Care is here for you.
Cleaning any hard surface
Ceramic Tile
Porcelain Tile
Travertine
Granite
Creating a healthy environment
The goal is to create a healthy environment within your home. Let our professional clean your hard surfaces by using a high-pressure rinse with a spinner tool and enclosed suction. By performing this simple, yet essential task, it will make your hard surfaces look like new.
Want the most thorough carpet, upholstery, tile and blind cleaning in Southern Califiornia?
Carpet makers recommend a professional cleaning every 12-18 months. If pets and kids are in the house, carpets may need to be
more frequently cleaned.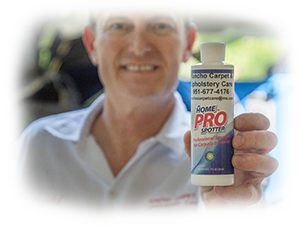 Free Home PRO Spotter Bottle With Lifetime Refill With Every Service!
Temecula, Menifee, Murrieta,
Canyon Lake, CA
Referral rewards available!
David Glass, certified master technician, can get your carpets, upholstery, tile, area rugs, and blinds cleaned & restored like new. Call Rancho Carpet & Upholstery Care today.
© 2017 Rancho Carpet and Upholstery Care. All Rights Reserved.