If you have blinds in your home or business that are in dire need of a good cleaning, then call Rancho Carpet & Upholstery Care today for same-day service.
Owner, David Glass will be there on time to clean any types of blinds you may have in addition to perform any repairs needed.
Ultrasonic cleaning method
Our process includes removing the blinds and using a gentle, yet precise ultrasonic method of cleaning them. This method gently removes all the years of dust and dirt from your blinds and has them looking brand new.
Restore your blind's beauty
After carefully cleaning the entire surface of your blinds, David will then reinstall them the way they were. Once this process is completed, you can be sure your blinds will shine like they did when you first purchased them.
Residential and commercial repairs
Our repair services are available for both residential and commercial properties as well. No matter what types of repairs your blinds require, whether they are tilter repairs or re-stringing, Rancho Carpet & Upholstery Care is here for you.
Want the most thorough carpet, upholstery, tile and blind cleaning in Southern Califiornia?
Carpet makers recommend a professional cleaning every 12-18 months. If pets and kids are in the house, carpets may need to be
more frequently cleaned.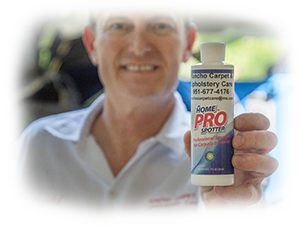 Free Home PRO Spotter Bottle With Lifetime Refill With Every Service!
© 2017 Rancho Carpet and Upholstery Care. All Rights Reserved.